Hitchhiking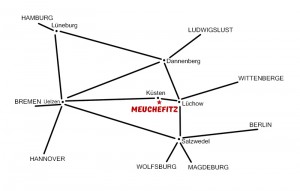 Wendland is maybe one of the most remote places in Germany, so getting here might be a little bit complicated. Be prepared to hike a lot of smaller roads. As soon as you arive in Wendland hitchhiking will be quiet easy, but first you will have to cross several other districts betweeen the motorway and the "Lüchow-Dannenberg"-District (which is the official Name for Wendland). Using a sign is allways helpful on country roads. We suggest starting early so you won't have to hitchhike in the dark after you've left the motorways. If you're near the Camp and see no chance to hike any further you can contact the Info-Point via mobile and we will try to organize a shuttle for you.
DIY Shuttle service
Public Transportation isn't really good in Wendland. Therefor we will try to organize a Shuttle Service with small busses and cars. This will be organized collectively.
There are 2 Bus-Stops some 2 kilometers away from the Encounter. If you would like to be picked up let us know (as early as possible), so we can organize the lift. You can do this via mail or by calling the info-point phone.
Dial-a-Bus Service to Meuchefitz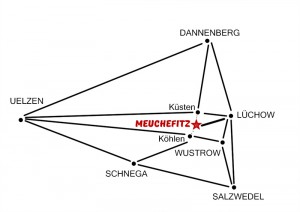 There is a public dial-a-bus service for groups starting from 6 people. The Bus will pick you up at Lüchow and drive you directly to Meuchefitz where the Camp takes place. You have to call at least 2 hours in advance, the number is 0581/976280. They can also give you the exact shedule of the bus service, but you can also use the (english) website of Deutsche Bahn (German Train Company) to find your connections.
By Train & Bus
There are bus stations in Küsten and in Köhlen/Luckau, both are 2 kilometers away from the camp. The buses take you from the Train Stations in Schnega, Uelzen an Dannenberg to one of the bus stops.
Coming from the north you can take trains from Lüneburg to Dannenberg (Ost)
Coming from the east (and south) you can take trains to Salzwedel and Schnega. Every 2 hours there are buses going from the Trainstation to Wustrow (Wendland) and Lüchow. If necessary we can pick you up from Salzwedel, Schnega, Wustrow or Lüchow
Coming from the west (and south) you take a train to Uelzen. From there you can find buses leaving every 1-2 hours in the direction of Dannenberg and Lüchow. Ideally you take a bus to Köhlen/Luckau or to Küsten
By Car & Hitch-Hiking
From the North (Hamburg): From Lüneburg towards Hitzacker/Dannenberg, in Sagasfeld follow the signs towards Waddeweitz & Küsten, from there to Meuchefitz
From the East (Magdeburg/Stendal): From Gardelegen towards Salzwedel and from there to Wustrow (Wendland), then in the direction of Küsten and Meuchefitz
Coming from the South (Braunschweig/Göttingen): From Wolfsburg and Salzwedel towards Wustrow, from there follow the signs to Küsten and Meuchefitz
Coming from the West (Hannover): From Celle to Uelzen and then towards Lüchow, in Küsten take the road to Meuchefitz
From the North-West (Bremen): Go to Uelzen, then take the road to Lüchow, in Küsten follow the signs towards Meuchefitz